Nanotechnology applications in Ophthalmic Optics
Sanol Technologies Corporation
SANOL™ Technologies Corporation is a technology oriented company, which  manufactures and globally distributes Sanol Blue Light Guard™ o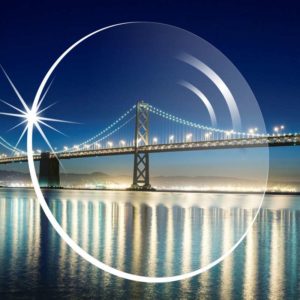 phthalmic lenses. Blue Light Guard™ lenses are built on a proprietary lens technology which selectively and actively filters artificial blue light radiation, and enhances the contrast between the digital monitor and the surrounding environment.
Digital Eye Strain (D.E.S.) is the physical discomfort felt after two or more hours of work in front of digital monitors and it is associated with artificial blue light emissions combined with the constant focus at close to mid-range distances. Electronic device monitors are emitting harmful artificial blue light which in time harms the quality of tear layers and contributes to early occurrence of certain eye damages and syndromes.
In contrast with all other competitive lenses that they block all both digital and natural blue light,
S.A.N.O.L. (Stimulus Activated Nanotechnology Opthalmic Lens)employs a patented ophthalmic lens technology to actively and selectively filter the harmful blue light radiation emitted by digital device monitors and digital light sources (LED lights, etc.), while it allows most of the beneficial natural blue light to reach our eyes.